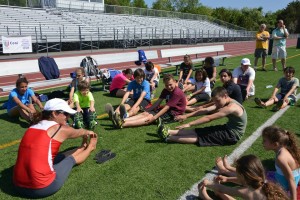 CONI-USA is involved in many events across the country, during the year.  In the early spring we start the process of try-outs to select the CONI-USA team that will be going
to Italy to participate in the Giochi Della Gioventu (Youth Games.)  Six international teams compete for Olympic recognition in various Track and Field, as well as Swimming competitions.  Throughout the year, CONI-USA holds its traditional KIDS DAY Events hosted by the CASA D'ITALIA in Chicago, Illinois.  At the end of every year, we've held our traditional XMAS ACTION PARTY hosted by the Consolato Generale D'Italia in New York City! 1,000's of Italian American youth have participated in our events, and hundreds have gone on to represent their nation in the Giochi Della Gioventu.
Join Us!
Take a look at our Yearbooks for Giochi della Gioventu in the past hosted on Facebook.